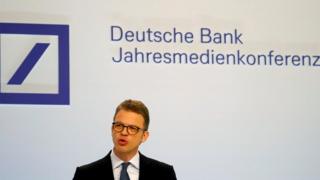 Deutsche Bank has been hit with a $150m (£120m) fine for failing to properly monitor its relationship with convicted sex offender Jeffrey Epstein.
New York state regulators saidthe bank had suffered "significant compliance failures", processing hundreds of transactions for the late financier.
Those included payments to Russian models and $800,000 in "suspicious" cash withdrawals.
Deutsche said it "deeply" regretted its relationship with Epstein.
It said it had spent almost $1bn to improve its training and controls and expand its anti-financial crime team to more than 1,500 people.
"We acknowledge our error of onboarding Epstein in 2013 and the weaknesses in our processes, and have learnt from our mistakes and shortcomings," the bank said in a statement. "Our reputation is our most valuable asset and we deeply regret our association with Epstein."
New York's Department of Financial Services said the bank, which worked with Epstein from 2013 to 2018, helped him transfer mil