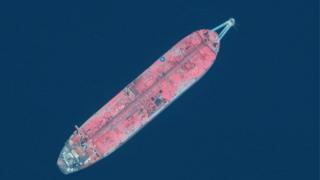 The UN Security Council is to meet to discuss the threats posed by a rusting oil tanker off Yemen's Red Sea coast.
The FSO Safer is loaded with more than a million barrels of crude oil and experts have warned of an environmental catastrophe if the vessel breaks apart.
The tanker has had virtually no maintenance since the start of Yemen's devastating civil war five years ago.
Houthi rebels agreed on Sunday to let a UN team access the tanker, but there is a dispute over the sale of its oil.
The 45-year-old FSO Safer is anchored about 60km (37 miles) north of the rebel-held port of Hudaydah.
Water recently entered the tanker's engine room, increasing the risk that the vessel would sink or explode. A temporary fix was found, but the UN said it could have led to disaster.
As well as devastating marine life in the Red Sea, an oil spill could destroy the livelihoods of people who depend on the area for fishing.
Yemeni environmental group Holm Akhdar (Green Dream) estimates more than 126,000 people working in the fishing industry could lose their jobs.
Last month, it warned: "Yemen would need a long period of time to tackle the fallouts of marine pollution. The Red Sea ecology would need over 30 years to recover from the ensuing dire consequences of the oil spillage."
A spillage could also disrupt one of the world's busiest shipping lanes and aff