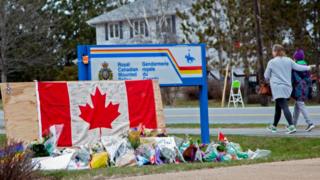 Three months after a gunman posing as a police officer went on a rampage across the province of Nova Scotia, questions still remain about Canada's deadliest mass shooting, and why the Royal Canadian Mounted Police couldn't stop it.
When police arrived at the first crime scene at 10:36pm on 18 April, in a quiet cul-de-sac in the the seaside community of Portapique, they found a bloodbath.
Several bodies were strewn in the street and buildings were on fire. Over the course of the next few days, police would find 13 victims across seven different locations in that single neighbourhood.
"Nobody really understands. Everybody knows it was an unimaginable thing that happened there," Tom Taggart, a local politician in Portapique, told the BBC.
"You can't visualise. You couldn't possibly understand what it was like there that night."
An hour later, RCMP tweeted they were investigating a "firearms complaint" in Portapique and that people in the area should lock their doors and stay inside.
It would take eight hours before they sent another tweet, and another two after that for police to tell the public that the gunman was wearing a police uniform and driving a police cruiser.
At 11:26am, police caught up with the gunman, Gabriel Wortman, at a petrol station 95km (59 miles) south of where his crime spree began. He died in a shootout with police.
Over the course of that evening and early morning, Wortman would kill a total of 22 victims, including two frontline healthcare workers, a primary school teacher and RCMP Constable Heidi Stevenson, a 23-year veteran of the RCMP and mother of two. All were adults, except for 17-year-old Emily Tuck, who was killed alongside her two parents.
The complexities of the case meant that it took several days to identify all the victims, and several more before the police could release a timeline.
From the outset, people have demanded an inquiry into the RCMP's response to the shooting.
"I desperately want to know what led to this. And that's what the inquiry needs to be and it should be happening now," Mr Taggart said.
Why didn't the RCMP send out an emergency alert as early as Saturday evening?
Why did they only alert the public that Wortman was impersonating an officer the following morning, hours after a witness told him he was driving a police cruiser?
How did he get access to a decommissioned police cruiser in the first place?
How did he amass a collection of illegal weapons from the US?
"We need answers to heal, we need answers so we can find a way to live in this new normal that we've been forced into,"wrote the daughter of one of his victims, Heather O'Brien, in a letter published on Facebook on 31 May.
Darker questions have also emerged, such as why police ignored reports of the gunman's violent behaviour towards women, or why they ignored warnings he was amassing an arsenal and wanted to "kill a cop", and how he was able to liquidate C$475,000 ($350,000, £279,000) from his account in a single transaction.
Officials keep promising an inquiry is forthcoming, but so far it hasn't materialised.
Nova Scotia Justice Minister Mark Furey declined an interview, but a ministry spokesperson said this:
"We recognise Canadians are looking for, and deserve, answers about the tragic events that happened in April. The Nova Scotia Department of Justice is actively engaged with the federal government on this matter and an announcement is forthcoming. We are committed to ensuring we take the necessary steps to support victims and families as we move toward an announcement."
In the absence of an inquiry, several legal cases have emerged.
Members of the media are going to court to release documents about the investigation. Wortman's victims and their families have filed a class-action lawsuit against his estate, and another class-action lawsuit has been filed against the RCMP, the federal attorney general and the attorney general of Nova Scotia.
"We will review and consider any such claim once served. We do not anticipate having any further comment on this matter. Our primary focus continues to be on the ongoing criminal investigation, and supporting the victims of this tragedy as well as our members and employees," RCMP spokesperson Corporal Jennifer Clarke said in a statement.
Mrs O'Brien's husband, Andrew O'Brien, is one of two named plaintiffs in the case against the RCMP. The class-action lawsuit has not been certified by the courts yet, a procedure that can take up to a year.
The lawsuit alleges the RCMP "breached the standard of care expected of them" and behaved in a "high-handed, self-serving and disrespectful manner" to victims and their family during the course of their investigation, which is ongoing.
This "disrespectful manne