Coronavirus LIVE Updates: Karnataka's Kalaburgi district has decided to extend the lockdown till July 27 in view of the rising cases of Covid-19. Karnataka yesterday reported 4,120 new COVID-19 cases and 91 related fatalities, taking the total number of infections to 63,772 and the death toll to 1,331, the Health department said. The day also saw 1,290 patients getting discharged after recovery. Of 4,120 fresh cases reported on Sunday, a whopping 2,156 cases were from Bengaluru Urban alone. Karnataka crossed the 10 lakh tests milestone yesterday from about 88 labs in the state.
As of July 19 evening, cumulatively 63,772 COVID-19 positive cases have been confirmed in the state, which includes 1,331 deaths and 23,065 discharges, the health department said in its bulletin. It said, out of 39,370 active cases, 38,791 patients are in isolation at designated hospitals and are stable, while 579 are in ICU. Thirty-six out of 91 deaths reported on Sunday were from Bengaluru Urban, followed by Mysuru (11), Kolar (5), four each from Dharwad, Gadag and Koppal, three each from Ballari, Kalaburagi and Bidar.
Read More
Jul 20, 202010:42 am (IST)
Maharashtra Police check vehicles in Pune amid the second-phase of lockdown that has been imposed here from 13 to 23 July in the wake of COVID-19. The lockdown has been imposed in two phases here – the first phase from 13 to 18 July and the second phase from 18 to 23 July.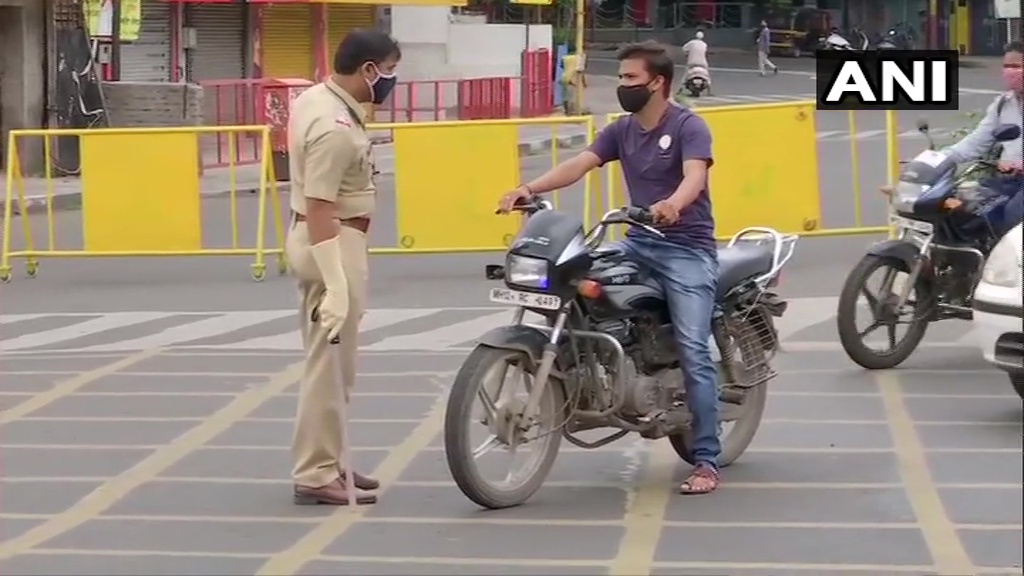 Jul 20, 202010:33 am (IST)
GOP Leaders, Trump to Discuss Virus Aid as Crisis Deepens | Top Republicans in Congress were expecting to meet Monday with President Donald Trump on the next COVID-19 aid package as the administration panned more virus testing money and interjected other priorities that could complicate quick passage.
Jul 20, 202010:24 am (IST)
Global Cases Near 14.5 Million | Nearly 14.5 million people have been tested positive for coronavirus worldwide so far, according to the Johns Hopkins University tracker, which relies on official government data. The current total stands at 14,457,916. The death toll is 605,205.
Jul 20, 202010:15 am (IST)
Jul 20, 202010:07 am (IST)
Amid Rising Cases, India Now Has Its Highest Positivity Rate |With over 11-lakh cases, India now has its highest ever positivity rate in India at 15.79 percent.
Jul 20, 202010:05 am (IST)
Delhi Health Minister Recovers From Covid-19, To Join Office Today
Our Health Minister Satinder Jain has recovered. He will join work from today.

He was always on the field visiting hospitals and meeting health workers and patients. He contracted corona. After one month, he joins back today.

Welcome back Satinder and best wishes!

— Arvind Kejriwal (@ArvindKejriwal)July 20, 2020
Jul 20, 202010:02 am (IST)
Today's Data Highlights
– India's tests per million population crosses 10k mark
– 1 lakh fewer tests on Sunday compared to Saturday (2.56 lakh vs 2.58 lakh). Total tests 1.40 crore
– India's deaths per million population is now 20 (world average 78)
– Daily new cases crosses 40k mark. It took India 94 days from 0 to 40k cases
– Total number of recoveries in India now more than 7 lakh (7,00,086)
– India's recovery rate falls from 62.9% to 62.6%
– Andhra Pradesh reports more than 5k daily new cases (5041), more daily cases than Tamil Nadu (4979)
– More than 15k new cases in southern states
– India accounts for 33% of total cases in Asia
Jul 20, 20209:50 am (IST)
FDA Approves Quest COVID-19 Test for 'Pooled' Sample Use |The US Food and Drug Administration has given emergency approval to a new approach to coronavirus testing that combines test samples in batches instead of running them one by one, speeding up the process. The FDA said Saturday that it reissued an emergency use authorisation to Quest Diagnostics to use its COVID-19 test with pooled samples. It is the first test to be authorised to be used in this way.
Jul 20, 20209:40 am (IST)
Here's the State-wise Breakup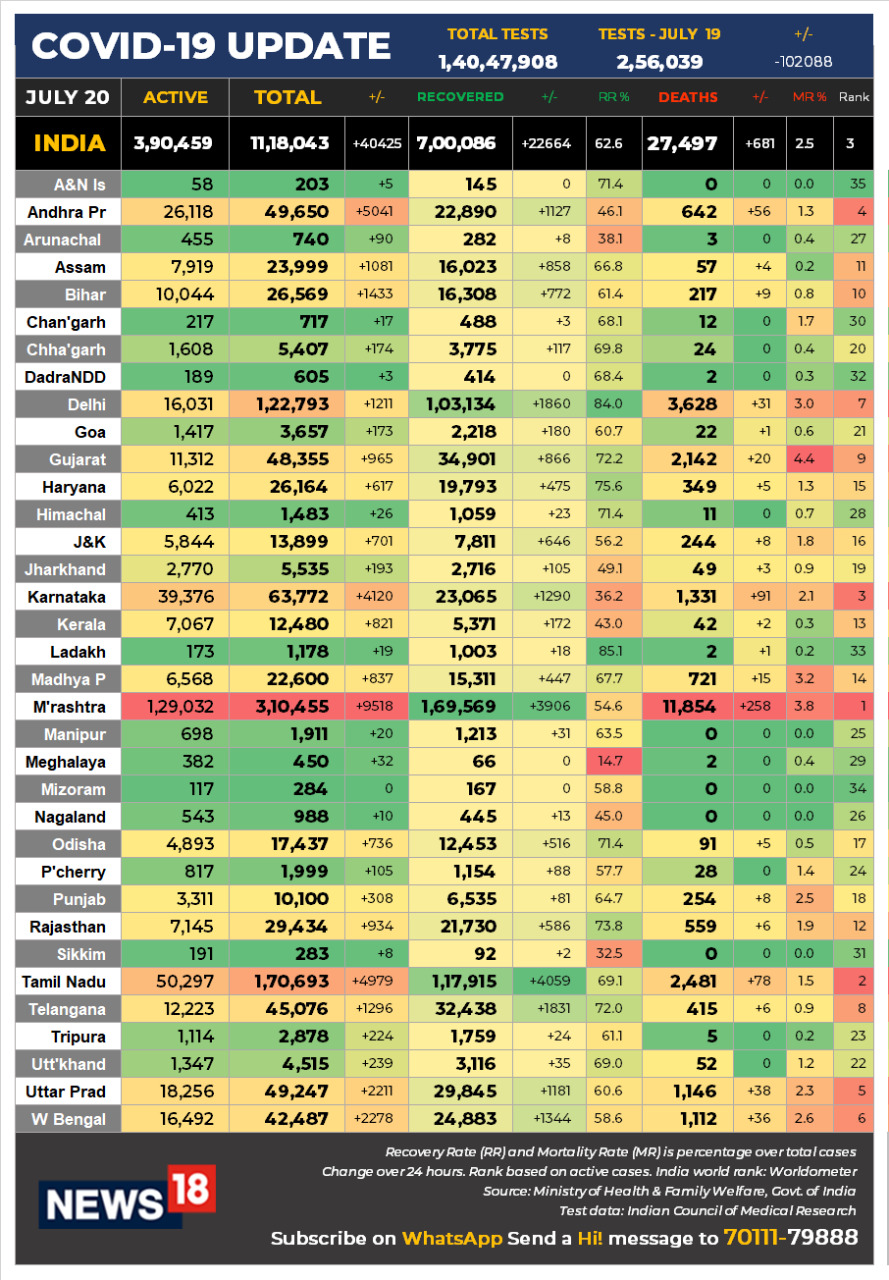 Jul 20, 20209:37 am (IST)
India Records Fresh Cases, Total Tally Crosses 11 lakh-mark |With 40,425 fresh recorded in the past 24 hours, the total tally rose to 11,18,043.

Jul 20, 20209:29 am (IST)
FDA Approves Quest COVID-19 Test For 'Pooled' Sample Use | The Food and Drug Administration has given emergency approval to a new approach to coronavirus testing that combines test samples in batches instead of running them one by one, speeding up the process.
Jul 20, 20209:19 am (IST)
1,40,47,908 samples tested for COVID-19 up to 19th July. Of these 2,56,039 were tested yesterday, stated the Indian Council of Medical Research (ICMR)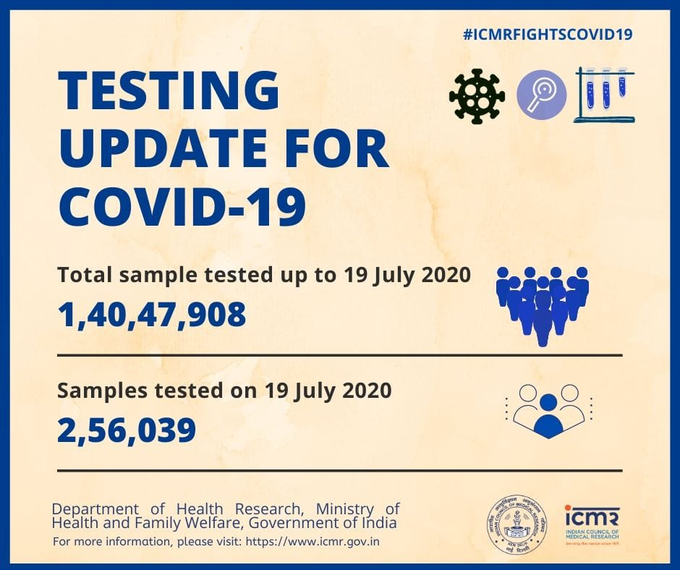 Jul 20, 20209:11 am (IST)
Covid-19 Cases Tick up in Northwest China City | Numbers of confirmed coronavirus cases in China's northwestern city of Urumqi continue to rise, with another 17 reported on Monday, bringing the total in China's latest outbreak to at least 47. Another five cases were brought from outside the country, according to the National Health Commission.
Jul 20, 20209:05 am (IST)
Maharashtra Cabinet Minister Aslam Shaikh Tests Positive
This is to inform that I've tested positive for#COVID19. I'm currently asymtomatic and isolating myself.

I request all those who have come in close contact with me to get themselves tested.

I will continue to work from home to serve the people of my state. 🙏🏻

— Aslam Shaikh, INC (@AslamShaikh_MLA)July 20, 2020
Jul 20, 20208:59 am (IST)
Confirmed Cases in Germany Increase to 201,823 | The number of confirmed coronavirus cases in Germany increased by 249 to 201,823, data from the Robert Koch Institute for infectious diseases showed. The reported death toll rose by two to 9,086, the tally showed.
Jul 20, 20208:50 am (IST)
South Africa Deaths Pass 5,000 | South Africa's death toll from coronavirus has passed the 5,000-mark, according to official figures released by the continent's hardest hit country. South Africa registered 85 new deaths from the virus in the previous 24 hours, bringing the death toll to 5,033.
Jul 20, 20208:43 am (IST)
France Decrees Masks Must be Worn Indoors | People in France will risk a fine of €135 ($154) for failure to comply with a new decree to wear a mask in public places indoors, the government announced, AFP reports. As officials noted signs of an uptick in virus circulation, Prime Minister Jean Castex on Thursday said masks will become compulsory in enclosed public spaces from next week in a bid to prevent a second wave of coronavirus infections.
Jul 20, 20208:35 am (IST)
Jul 20, 20208:26 am (IST)
Australian State of Victoria Records 275 Cases | In Australia another 275 coronavirus cases have been recorded in the state of Victoria. The state now has a total of 5,942 cases since the pandemic began, 2913 of those active.
Jul 20, 20208:19 am (IST)
New Zealand Reports Fresh Case | New Zealand has reported one new coronavirus case, a man in an isolation facility, the Ministry of Health announced, as the country marks 80 days without local transmission from an unknown source.
Jul 20, 20208:11 am (IST)
China has reported 22 new coronavirus cases, according to the People's Daily, with 17 of these community transmission cases from Xinjiang.
On Sunday, the Chinese mainland reported:
– No new#COVID19deaths
– 22 new cases: 5 imported cases and 17 domestically transmitted cases in Xinjiang
– 13 new asymptomatic cases
– 249 active cases in total, including 5 in critical conditionpic.twitter.com/Zt2FFWVlZL

— People's Daily, China (@PDChina)July 20, 2020
Jul 20, 20208:07 am (IST)
Mexico Reports Over 5,000 Cases in Past 24 Hours |Mexico's Health Ministry reported 5,311 new confirmed coronavirus infections and 296 additional fatalities, bringing the total in the country to 344,224 cases and 39,184 deaths.
Jul 20, 20208:06 am (IST)
AIIMS Delhi to Start Enrolling Volunteers for Covaxin Trials from July 20
Jul 20, 20207:58 am (IST)
Record Spike in Covid Cases in Southern States; UP, Gujarat and Bihar Too Register Spurt | A record single-day spike in fresh cases was registered in many southern states on Sunday as India's COVID's tally neared 11 lakh. Delhi, which is placed third among the states and Union territories most affected by the pandemic, continued to show an improvement in the situation, but Bihar, Uttar Pradesh and Gujarat reported a sharp rise in cases.
Jul 20, 20207:53 am (IST)
Mexican President Pledges Better Health Care After Pandemic | Mexico's president promised to combat chronic health problems and improve health care, as the country's cases of COVID-19 continued to mount. The Health Department reported 5,311 more confirmed cases, for a total of 344,224, and 296 more COVID-19 deaths, for a total of 39,184.
Jul 20, 20207:42 am (IST)
Raipur, Birgaon To Be Locked Down, Essential Services to Continue |Lockdown to be imposed in Raipur and Birgaon Municipal corporation areas effective from 22 July till 28 July midnight in view of Covid-19, while the essential services are exempted.
Jul 20, 20207:40 am (IST)
Lockdown Extended in Karnataka's Kalaburgi Amid Rising Cases |Lockdown extended in the Kalaburgi district till July 27 midnight. Decision taken as the number of COVID19 cases has not come down, said B Sharat, Kalaburagi Deputy Commissioner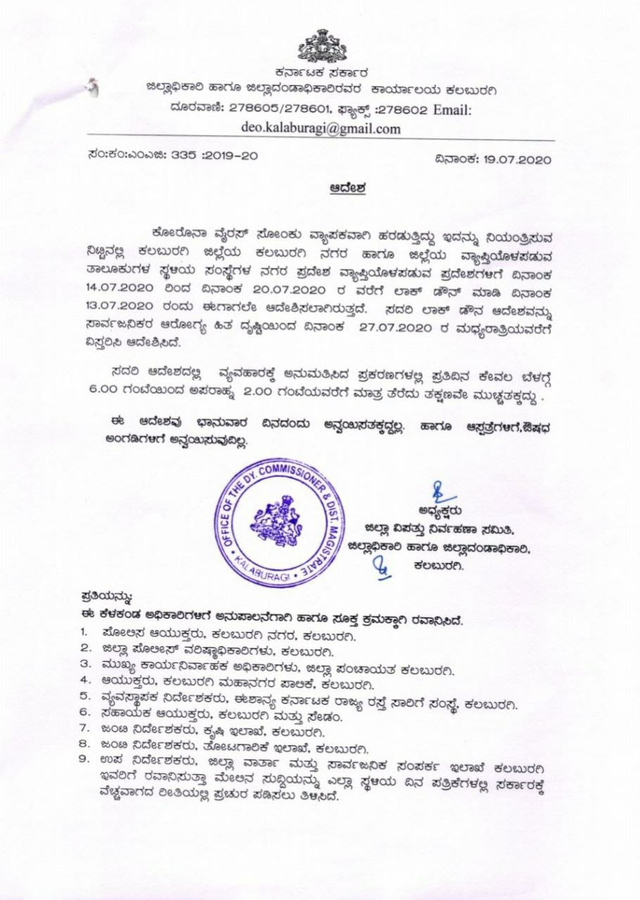 Jul 20, 20207:33 am (IST)
Kentucky Reports Nearly 1,000 New COVID-19 Cases | Kentucky Gov. Andy Beshear reported 979 new COVID-19 cases, a daily record that he said should be a "wake-up call" for the state's citizens to abide by mask and social distancing restrictions to slow the spread of the virus.
Jul 20, 20207:25 am (IST)
Assam Records 1,018 Cases, Tally Rises to 23,999 |As many as 1,018 COVID19 cases were reported in Assam on 19th July, including 577 cases from Guwahati City. The total number of cases in the state stands at 23,999, including 16,023 discharged, 7,916 active cases and 57 deaths, stated Himanta Biswa Sarma, State Health Minister.
Jul 20, 20207:21 am (IST)