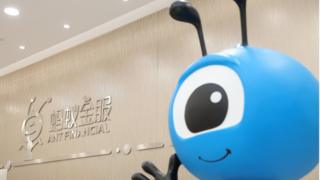 Chinese financial technology group Ant has unveiled plans for a stock market debut that may raise a record $30bn (£23bn).
The company, affiliated with online retail giant Alibaba, says it will sell shares in Hong Kong and Shanghai.
The announcement comes amid rising tensions as the Trump administration cracks down on Chinese firms.
While many in the West won't have heard of Ant, it is best known in China for the mobile payments powerhouse Alipay.
What is Ant Group?
Headquartered in the Chinese city of Hangzhou, Ant was launched in 2004 by e-commerce giant Alibaba and its founder Jack Ma.
Since then Alipay has become China's dominant mobile payments business.
Along with mobile payments, more than 700m people a month and 80m businesses use the service to pay bills, buy insurance and invest in mutual funds.
Meanwhile Alibaba, which owns a 33% stake in Ant, is increasingly folding its services into the Alipay app.
David Dai, senior analyst at asset managers Bernstein in Hong Kong, told the BBC why the company is such a major player in China's digital payments industry.
"Together with Tencent, Ant processes some 200 trillion RMB (£22.5tn; $28.8tn) of payment and transfers annually. That's more volume than Visa and Mastercard combined."
But, according to the company's own online profile, it's not size that matters but longevity: "We do not pursue size or power; we aspire to be a good company that will last for 102 years."
How big could the share sale be?
While Ant's announcement didn't reveal its valuation of