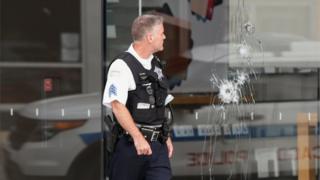 Chicago police will limit access to the city's downtown after a night of violence and looting following reports of a police shooting.
Police Superintendent David Brown said the area will be restricted from 20:00 to 06:00 and a "heavy police presence" will continue until further notice.
He said the "shameful destruction" was "fuelled by misinformation" about a suspect shot by police on Sunday.
Social media videos showed hundreds of people looting and confronting police.
As of Monday, Chicago police have arrested over 100 individuals for looting, disorderly conduct and battery against police, among other charges.
In addition to widespread damage, police reported an exchange of gunfire with suspects in the early hours of Monday. City officials had temporarily suspended transportation services to the downtown area and raised bridges.
A number of videos posted on social media show vandalism and damage to shops. Some clips show individuals walking out of shops with items. In one video, a police officer is struck in the face with an object apparently flung by an individual in the street.
Officials said 13 officers were injured throughout the night, including one who was struck by a bottle. A civilian and a security guard were also injured by gunfire.
In one incident, police said they were arresting a suspect carrying a cash register when a vehicle passed by the officers and fired shots.
Chicago is one of several US cities that has experienced a recent surge in shootings and homicides. The city reported its deadliest day in 30 years in June.
What did officials say?
Mr Brown on Monday told reporters the "seeds for this shameful destruction we saw last night were sown…on Sunday afternoon", when police responded to a report of a man with a gun.
Mr Brown said police attempted to interview the suspect, who fled and fired shots at the officers. Officers returned fire, striking the individual, who Mr Brown described as a 20-year-old ma