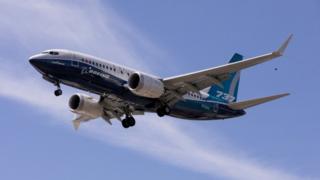 A wide-ranging list of changes to Boeing's ill-fated 737 Max planes has been put forward by US regulators.
The Federal Aviation Administration (FAA) document details actions it wants to be made before the planes can fly again commercially.
The 737 Max has been grounded since March 2019 following two fatal crashes which killed 346 people.
Boeing hopes to get the 737 Max back in the air early next year after the changes are made.
Proposed changes include updating flight control software, revising crew procedures and rerouting internal wiring.
In a related report also published on Monday, the FAA said that Boeing's own recommendations had sufficiently addressed the problems that had contributed to the two fatal crashes.
Once the proposals become official, Boeing can then make the changes and ready the planes for flight.
The design updates will need to be made to all planes delivered to airlines along with those not yet ordered or built.
"We're cont