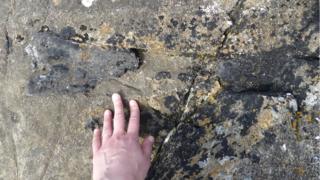 A scientist has discovered a 166 million-year-old dinosaur fossil while running along the shore of a small Scottish island.
Dr Elsa Panciroli was running to meet up with her palaeontology research team on Eigg when she made the discovery.
In Scotland, dinosaur bone fossils had only previously been found on the Isle of Skye.
The limb bone is about 50cm (19in) long and thought to belong to a stegosaurian dinosaur, like the stegosaurus.
Scientists have been searching for dinosaur fossils on the island for about 200 years. Previously the only fossils found on Eigg were of marine reptiles and fish.
Dr Panciroli said the research team was looking for these fossils and had not expected to find evidence of a dinosaur.
Her discovery has been dated to the Middle Jurassic period.
Dr Panciroli, who works at National Museums Scotland, said: "It was a bit of a serendipitous discovery.
"It was the near the end of the day and I was running to catch up with th