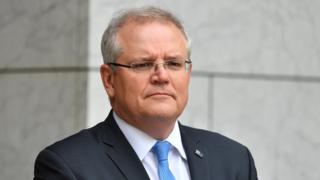 Australia has suspended its extradition treaty with Hong Kong in response to fears over a new national security law imposed by China.
Prime Minister Scott Morrison said the new law undermined "Hong Kong's own basic law" and the territory's current level of autonomy from Beijing.
Australia planned to extend visas for Hong Kong residents and encourage businesses there to relocate, he said.
China has criticised the move as "gross interference" in its domestic affairs.
"We urge the Australian side to immediately stop meddling… otherwise it will lead to nothing but lifting a rock only to hit its own feet," said a statement by its embassy in Australia.
Since the law was enacted last week, Canada has also suspended its extradition treaty, while the UK has offered citizenship options to Hong Kong residents.
Critics say the law makes it easier to punish protesters and critics of the Chinese government.
Hong Kong's government says the law is required to bring order to a city that saw mass pro-democracy protests last year that often turned violent.
As the extent of the law's reach is still uncertain, critics have said it could also lead to foreign nationals being arbitrarily detained in Hong Kong.
That has led Australia and other nations to issue new warnings to their citizens in Hong Kong. More than 100,000 Australians are in the city.
"You may be at increased risk of detention on vaguely defined national security grounds. You could break the law without intending to. If you're c