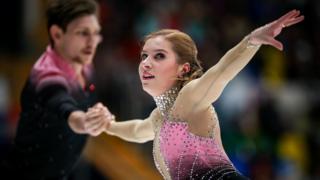 Ekaterina Alexandrovskaya, who was born in Russia but competed for Australia in figure skating at the Olympics, has died in Moscow at the age of 20.
The cause of her death on Friday has not yet been disclosed. Alexandrovskaya retired in February due to injury.
She was granted Australian citizenship to compete at the 2018 Winter Olympics with indigenous Australian pairs skating partner, Harley Windsor.
Windsor, who won the world juniors with her in 2017, said he was devastated.
"The amount we had achieved during our partnership is something I can never forget an