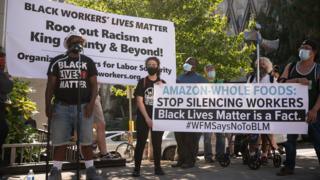 Workers at Whole Foods are suing the US supermarket for punishing them for wearing Black Lives Matter masks.
The federal lawsuit says the firm discriminated against black staff by selectively enforcing its dress code.
Whole Foods, owned by tech giant Amazon, forbids staff from wearing clothes with messages that are not company-related.
It denied firing a worker over the issue, but would not comment on the legal action.
"While we cannot comment on pending litigation, it is critical to clarify that no Team Members have been terminated for wearing Black Lives Matter face masks or apparel," the company said in a statement.
The lawsuit says more than 40 Whole Foods employees at locations across the country have been punished for wearing the Black Lives Matter masks, which became popular amid the outcry over George Floyd's death at the hands of police.
Staff wearing clothing with other messages, such as LGBTQ pins or sports team apparel, had not faced such discipline in the past, the lawsuit says.
'Repeated violations
"Whole Foods' selective enforcement of its dress code in disciplining employees who wear apparel expressing support for the Black Lives Matter movement constitutes unlawful discrimination," the lawsuit says.
The complaint asks the court to strike down Whole Foods' policy and bar the company from taking further action or retaliating against the workers. It also seeks back-pay for workers sent home for wearing the masks,