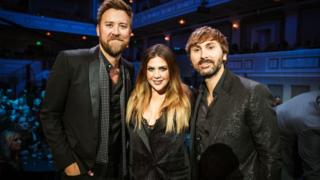 Country music group Lady A, who dropped the word Antebellum from their name over links to the slave era, are taking legal action against a black woman who has performed as Lady A for decades.
The chart-topping band said they had tried to resolve the dispute with Anita White amicably, but alleged her team had "demanded a $10m (£7.9m) payment".
They said their action was to obtain a ruling over copyright.
White would not be prevented from using the name, they added.
The Nashville trio formerly known as Lady Antebellum have won five Grammys and had seven US top 10 albums, including three number ones.
They changed their name in June amid a reappraisal of racially insensitive practices following the death of George Floyd.
The word antebellum is used to refer to the period and architecture in the US South before the Civil War. The band said the architectural style had been their inspiration, but that they were "deeply sorry" for any hurt they had caused.
Their transformation into Lady A hit a road-bump when Anita White laid claim to the name andcriticised the bandfor making the switch without contacting her.
Band members Hillary Scott, Charles Kelley and David Haywood later spoke to the 61-year-old, declaring they had shared "transparent, honest, and authentic conversations".
"We are excited to share we are moving forward with positive solutions and common ground. The hurt is turning into hop